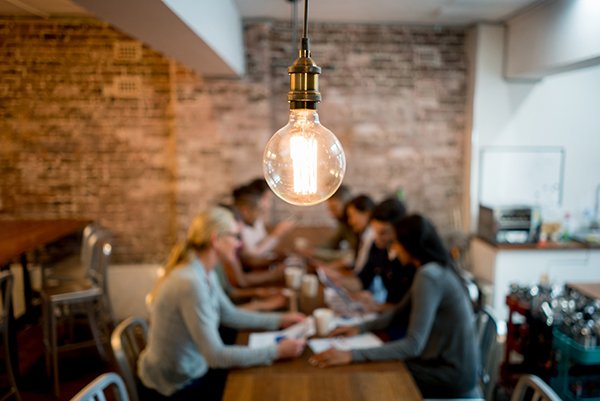 Insider's Guide to the Sweet Spots for Telecommuters
By Julie Peirano
Have you ever had to search for a quiet place with Wi-Fi to set up shop for the day, or even a couple of hours? If you have, then you  know just how tough a town like Telluride can be for finding just that. While some folks would have you believe that this little box canyon of ours is simply overflowing with coffee shops, the reality is, it's not. Or, at least not the kind we're looking for, anyway.
That's right—there's a "we" here in the town of Telluride, and it's made up of all of the remote workers out there. And unlike the ski bums who are happy grabbing an on-the-go cup of joe from the Coffee Cowboy on cold winter mornings, the work-from-homers need a little more shelter in order to get on with their workday, which is why we're here to deliver the sweet spots around town to poach some Wi-Fi.
Wilkinson Public Library
This one's a given, but still, it's worth mentioning. As if living in Telluride isn't enough, we also have access to one of the best public libraries ever—in the whole world. This is a fact. Anyone who's taken advantage of the newly constructed private meeting rooms on the top floor knows exactly what I'm talking about here. Clean, whisper-quiet, and free of charge, you won't regret spending the day posted up at quite possibly the nicest library of all time.
Baked in Telluride
Like bagels? Good. Love finding places that won't give you the stinkeye for sitting down and staying a while in exchange for giving them business? Boy, have I got a spot for you. BIT is a no-frills, comfortable and welcoming place of business, so it's safe to say that if you spend some money there, you won't get run out for hanging out on the free Wi-Fi for a few hours.
Camel's Garden
Shhh…This one's a well-kept secret. Just outside the interior door of Oak is the Camel's Garden. And just past the front desk is a sunken lobby with great internet connectivity. And the fun doesn't stop there. If you're working against some serious deadlines, you can knock out a couple hours of work upstairs, too. That's right, there's a second floor lobby as well, and it's typically nice and quiet, making it the ideal spot for getting down to business.
Oak
It feels good to support local businesses, and Oak is about as local as it gets. Personally, I love hitting up Oak on a sunny afternoon later in the week, so I can top it all off with a delicious margarita at the end of the day. But seriously, before that even happens, there's always work to be done. As long as it's not too slammed, Oak's a great place to order a tasty lunch and get some work done. Nobody bothers you, and, as any local can attest, the location (right next to the gondola and skiing) is everything.
La Cocina/Caravan patio
If you're looking for an outdoor locale for some fresh air during lunchtime, and you're also after a long, leisurely working lunch, La Cocina's patio is where it's at. If you fancy yourself more of a Middle Eastern food lover, then that works, too—the Caravan food cart sits right on the patio. Grab the Wi-Fi password from your server, and get to it.
Mountain Village free Wi-Fi
Mountain Village is so nice, it even offers free Wi-Fi. How great is that? But now the question is, where's the best place to cash in on the free perk. The answer, of course, is up to you. Some folks prefer to hole up at a restaurant or coffee shop in the core, while others opt for the more scenic route on the gondola to check a couple things off their to-do list. It's all up to you, folks.
The Peaks lobby/cafe
Speaking of Mountain Village, have you ever spent time in the Peaks lobby? You know it, it's the one with the oversized chairs and the towering fireplace. Well, as it turns out, it's an excellent spot to set up shop. Maybe you just took a few hot laps during lunch, but you don't have time to get back down into town before your next video call. Well, lucky for you, you're in the know, and you'll never venture up to the village sans laptop ever again.
The Phoenix Bean
Any local knows about the longtime Main Street staple that is The Bean. The coffee shop, which is now owned by The Sheridan, has free Wi-Fi and a wide selection of tasty treats and drinks ready and waiting to deliver that caffeine buzz you've been searching for. However, it can get a little busy and loud in there, so it may not be the best place to work depending on what you have to get done.