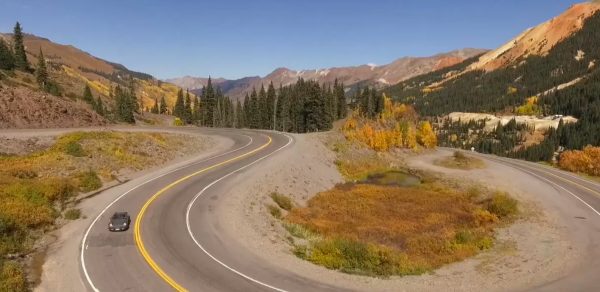 Cars and Colors Festival Hosts the Million Dollar Highway Road Rally.
Anybody who really loves to drive knows that the best time of year to take a classic car out for a spin is autumn. The leaves are at their peak color, the roads are dry and safe, and the weather is ideal. That makes it the perfect season for the Telluride Cars and Colors Festival, celebrating its second annual event this weekend, Sept. 29–Oct. 2. So ladies and gentlemen, start your engines.
The main event at the festival is the Million Dollar Highway Road Rally on Saturday, October 1. The rally route is the San Juan Scenic Skyway, the 237-mile alpine circuit known for its high altitude and breathtaking scenery. The rally master will set a time for driving the course and it will be kept a secret; the driver who comes closest to the set time will win $5,000 and a trip to the Porsche Driving School.
Even if you don't take the driver's seat at the rally, there are lots of events to entertain you throughout
the weekend. Whether you are a collector, a connoisseur, or just curious, you can check out some of the world's most prized automobiles at the "Concours on the Golf Course" in Mountain Village and on Colorado Avenue, Telluride's main street. A new motorcycle exhibit will be on display this year at the Heritage Plaza in Mountain Village. There will also be a fly-in at the Telluride Regional Airport on Saturday, featuring some classic fighter planes, and this year's guest speaker is retired astronaut Joseph Tanner.  Cars and Colors will have home tours, car-themed movies, jazz music by Spinphony and Modazz, and if you didn't pick up the prize at the rally you'll also have the chance to win cash in the photo contest and the medallion hunt.
Passes and single-day tickets the events are available at the Telluride Conference Center from 5:30-9:30 p.m. on Friday, Sept. 29. For more information, visit the Cars and Colors website.

The Million Dollar Highway Road Rally sponsored by Porsche from Cars And Colors on Vimeo.