I have one rule: always get in the water.
When climbing, running, biking, or having a picnic, if I am near a clear, cold, alpine lake I get in it. To scramble around these mountains is to challenge oneself, to breathe, to explore, and to enjoy time spent outside. Jumping in a lake is the quintessential way to shake away all thoughts but the present. Bring on the brain freeze!
I was probably seven or so the first time I followed my mother into the breath-stealing freshwater of Silver Lake near Telluride, Colorado. I have jumped in that lake alone
close to 20 times, leaping in after my Saint Bernard, or still stripping down in a sudden flurry of hail, or watching a rainbow form in memory of recent rain. I have held the hand of many first-timers, shocked by their own bravery in taking an alpine plunge. And I have shared countless swims with my mother and sisters all over the San Juans and greater Rocky Mountains. I promise you this, it will bring pure joy.
Allow yourself to be drawn to the icy alpine water. The tropical blues and greens can be disarming and enchanting and ripe for a skinny-dip. And once you're out, that high elevation sun seems to peel the water droplets right off you. When your brain freeze subsides and you are left with a full-body tingle you'll almost be ready to do it all over again. BRRRRRRRR.
Some pro tips for first-timers:
Jump in: Get in as soon as you can. But don't jump mindlessly in, often these beautiful alpine lakes are lined with sharp rocks. As soon as you arrive lakeside, strip down and get in while your body is still warm from the effort of getting there.
Swim naked: Yeah, I said it. Skinny-dip! Why? Because it adds to the pleasure and connection. But you also don't want to wear any clothing, as it will weigh you down in the water, or carry down any wet clothes because that will keep you cold.
Be prepared: Make sure you have warm, dry layers to put on immediately a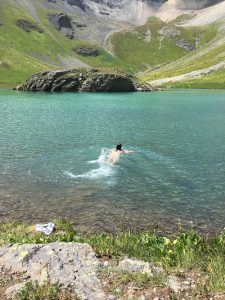 fter: hats, gloves, puffy jackets, socks. And make sure they're accessible. If you brought it, wear it. Don't leave any wet clothes on your body. You can strip back down once you're warm.
The need for speed: Make it a quick entrance and exit. Don't wade in and hyperventilate contemplating how cold it is. Walk right in and submerge yourself. Make a shallow dive. Take a stroke or two and get yourself back out before you get hypothermic and can't. Shake like a dog.
Breathe: Take a deep breath before you submerge your chest and head; the shock of the cold water can take the air from you.
Celebrate: Howl! Eat your snack. Find a large sunny rock, and turn your face toward the sky.
It can be thrilling and enjoyable, and yes, cold. But skinny-dipping in an alpine lake is a rite of passage in the mountains. Go for it—you won't be disappointed.
By Page McCargo